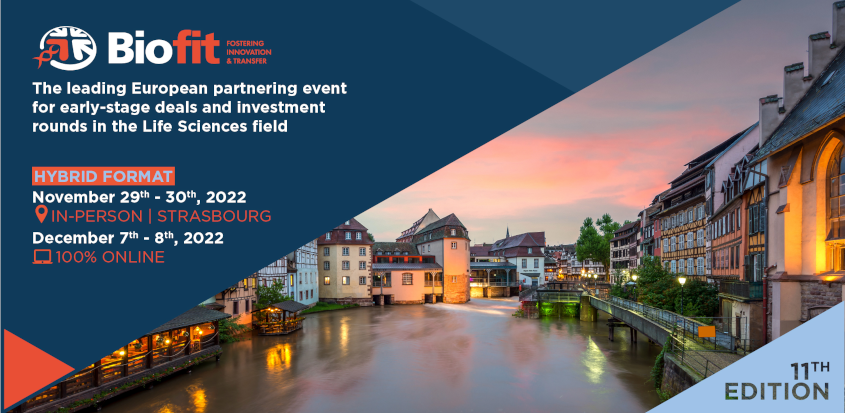 November 29th and 30th 2022 | In-person, Strasbourg (France)
December 7th & 8th 2022 | 100% online

EARLY-STAGE INNOVATION DEALS | ACADEMIA-INDUSTRY COLLABORATIONS | TECHNOLOGY TRANSFER | PRE-SEED, SEED, SERIES A INVESTMENT
With the highest attending rate of TTOs, research institutes and academia together with big pharma, emerging and small biotech, diagnostic companies, pre-seed / seed / Series A investors, BioFIT is the leading partnering event in Europe for technology transfer, academia-industry collaborations, early-stage innovation deals and pre-seed, seed and Series A investment in the field of Life Sciences.
KEY FIGURES:
– 1,000+ delegates
– 900+ organisations
– 35+ countries represented
– 1,015+ deals generated in 2021
INSIDE THE EVENT:
– A business convention with pre-qualified one-on-one meetings
– Project – CEO matchmaking
– Conferences and roundtable discussions
– Pitch sessions
– Start-up Slams
– Collaborative and Licensing Opportunity Presentations
– Animal Health Presentations
– An exhibition area
– Informal networking evenings
PARTICIPANTS:
Pharma: AbbVie | Asahi Kasei Pharma Corporation| Bayer | Boehringer Ingelheim | Daiichi Sankyo Co| EA Pharma | Eli Lilly and Company | Johnson & Johnson Innovation| MSD | Novo Nordisk | Pfizer | Roche | Sanofi | Servier …
Veterinary: Altar | Armenta | Avogadro|Boehringer Ingelheim Animal Health | Diagnostics for Animals| Provaxs | ReproPharm | SIMV | Zoetis …
Biotech and Diag: Accure Therapeurics | Allero Therapeutics | Alzprotect | AM Pharma | Cyclia | Evotec | Genfit | Proteona | Roivant Sciences | Shorla Pharma | Syngulon …
TTOs and Academia: Ascenion |BioAster | BioInnovation Institute | Cancer Research UK| EMBLEM Technology Transfer | Fraunhofer Institute for Cell Therapy and Immunology | IFOM the FIRC Institute of Molecular Oncology | Imperial College London | INRAE Transfert | IOCB Tech | University of Birmingham | VIB …
Investors (pre-seed, seed, Series A): BioGeneration Ventures | Cambridge Innovation Capital | Dementia Discovery Funds | European Investment Bank | Fund+ | High‑Tech Gründerfonds | INKEF Capital | LSP | M Ventures | Novo Holdings A/S| Sofinnova Partners | Start Codon | Theodorus Investment Funds | TVM Capital Life Sciences | V-Bio Ventures …
Please check out the different participants' lists of the previous editions, as well as the list of last year's edition here.
DOWNLOAD THE PROGRAMME:
Please feel free to widely share this document with your colleagues, network, partners…
BE PART OF THE EVENT:
Register now in physical format
Register now in digital format
Members of the European Biotechnology Network will benefit from a particular discount. Please contact Lukas Bannert, l.bannert@european-biotechnology.net, to receive a promo code for the registration. Discounts always apply on the "regular fee" except during the "late registration" period. Discount cannot be combined with any other offer.
Website: www.biofit-event.com
Twitter: @BIOFIT_EVENT
LinkedIn: @BioFIT Event
Contact:
Marine PENTIER
Business Developper
mpentier@eurasante.com
+33 (0) 359 390 188